Homeschoolers Help!
Are you a parent or carer who have been given the responsibility of homeschooling their Kids?
Homeschoolers Help page is an additional page to my website which I hope will offer you some alternative or additional ideas to the daily timetable!
There are also some handy websites providing stimulating ideas for children of all ages.  
Homeschooling is a great time to re- connect with your kids especially if they have become disillusioned with the monotony of learning! Use this as a cup half full time rather than the other way round! And enjoy them! This is a time when you have some control over what they learn! 
Remember, they learn better when they are happy!
     Websites that may be useful!
wild-days.org  Activities and videos giving you ideas to do in your outside space.
bbc.org.uk/teach/supermovers ** [see below]  Teaching your kids the curriculum through song and dance.
pobble365.com  This website gives you a picture each day with a series of questions and problems to solve.It also offers a Story Starter each day,  A Sentence Challenge and  A sSick Sentence Solver.  Great ideas for alternative literacy lessons.
natgeokids.com/uk  Geography based ideas for a topic. Themes include   Volcanoes,  Tigers,   Rain forest  and           Aboriginal Art 
tate.org.uk  Lots of fun activities using art as a starting block.    Includes quizzes. 
cosmickids.com  Yoga lessons for kids on line  [fee to pay]
** Typical bbc wouldn't let me link you! But you can reach the site by entering the above website yourselves! Its really worth it, its got some great ideas!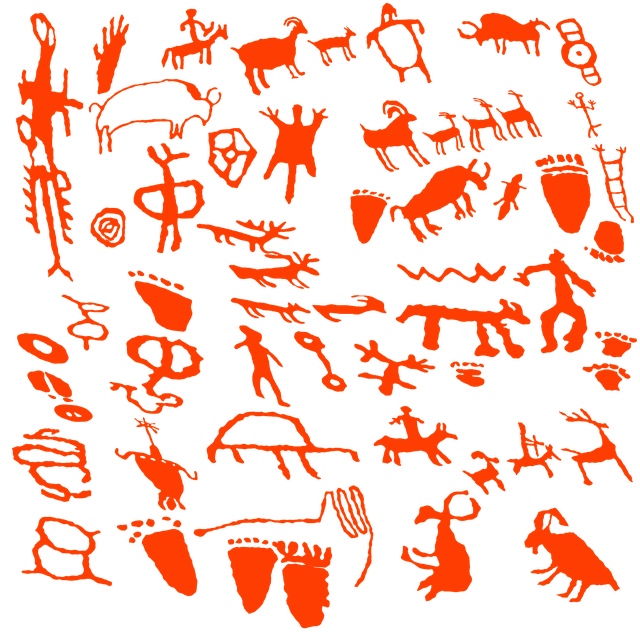 An example of Aboriginal Art
         Personalize their learning
Research has shown that children learn more enthusiastically if they have an interest in what they are being taught. 
So, allow them to choose a topic or subject they have a particular interest in and you will find they don't have to be nagged to do their schoolwork. They will want to do it!  Phew!
For example, they may be fascinated by Volcanoes. they could then research the famous volcanic eruptions that have occurred in the past.  An example of this could be Mount Vesuvius which destroyed the Italian city of Pompeii in AD 79. The remains of the town are still present today and give us an extraordinary insight into what life was like in Roman times.
There are more ideas and facts about Volcanoes on the             natgeokids.com/uk site mentioned above. There is also instructions of how to make a Volcano on my Rock Theme page which could be a follow up topic when the volcanoes have been exhausted! Also The Romans might be another interesting follow up too. Having seen pictures of Pompeii might just spur an interest in Roman life and times!!
          Allow some down time
Children, normally spend a great chunk of their lives in school with their timetable all mapped out for them. So homeschooling is a perfect opportunity for them to take control and choose how they spend their day.  
Providing you are happy that they have done something formal and directed some time during the day then why NOT allow them some down- time to indulge in activities they enjoy. 
It also allows you time to catch up!

See my Outdoor Activities page for some fun homeschooling   ideas!
                Write a Diary
Homeschooling can feel like a very lonely time for kids especially s if they have been used to going to school every day and  seeing their friends.
So as another homeschooler idea you might like to suggest they write a diary each day. This would allow them to write down how they feel about being taught at home.What they enjoy about it and perhaps what they don't enjoy. There is always pros and cons to every situation!
Younger children could also make a journal in picture form about the activities they have done and enjoyed each day so that they could show or even give to their family members next time they see them. They could add a happy or sad face to show if they enjoyed the activity or not! 
Have a look at Pepys' diary in relation to the London Plague of 1665. See below. Older children only.
       Learn about Historic diaries
A very famous diary of the past was  Pepys diary which gives us an insight of life in London in the 17th century.
As part of the this historic document  he tells us about the Plague of London which started in 1665 and lasted until 1666 and was responsible for the death of nearly 70,000 citizens.
A useful website for researching this topic is:

theschoolrun.com/homework-help/thegreatplague
This topic could be followed by delving into the Great Fire of London which happened in the September of the year 1666 
It was, although a disaster in one way a good thing in another, as it burnt down some 70,000 of its 80,000 homes of which many were still infected.  It also helped rid the city of the rats and fleas which were responsible for spreading the Plague.
But despite this vast number of destroyed dwellings there were only 6 verified deaths. Amazing!
A website to look at is:
theschoolrun.com/homework-help/great-fire-london
Also look at the londoners-lamentation which you can find on line. It's a broadside ballad published in 1666 giving an account of the fire and the limits of its destruction.

      Learn to do Something New                
Learn a new skill

1  Make some yummy cookies  [download recipe here]
2. Learn to knit. wikihow.com/Teach-a-child-to-knit
3. Get Creative and paint an abstract picture. 
 Mont Marte How to paint an abstract painting for kids - U-tube
4.  Make something out of junk materials and paint it
5. Plant a seed or two!   
You don't have to buy them, seeds are everywhere!
I hope these Homeschooler Help ideas have been useful to you and the kids and now you might like to look for more ideas and activities on the rest of my website. 
Thank you for visiting!