Cloud Theme
---
A cloud theme lends itself to loads of creative activities which you can do with the kids on dull and dismal days . Some of them I have tried in the classroom and some I am going to try when I get the opportunity!
Cloud Dough
---
This is a feely activity for kids of all ages. With younger ones it is probably wise to make up the dough beforehand but with older kids they will certainly enjoy mixing the ingredients together for themselves. Once made it can be used like wet sand so they can sprinkle it with their fingers, make it into balls or spoon it into buckets and build castles with it. You can even put food colouring in it to make it more interesting.
You will need:
A bag of cheap plain flour
Baby oil
A bowl to mix it in
A cup for measuing
Buckets and spoons or spades to use with it when it is made.
Instructions.
Mix 8 cups of flour with 1 cup of baby oil with your hands until it resembles fine breadcrumbs. The kids can do the rest! 
---
Shaving Cream Clouds
I started this cloud theme task by taking the kids outside and looking at the different kinds of clouds in the sky.If the weather isn't suitable you could show them a book about weather,which shows the various cloud types.
Then we went inside and tried to create our own out of shaving foam.
You will need: 
A large tray   
A can of shaving foam  
We started by squeezing a little foam into the tray and swirling it around with our fingers to make lines of light cloud then adding more and more to make the fluffy clouds you see on a sunny day. Perhaps they could see if they could make shapes of animals or objects in the foam.and ask their friends to guess what shape they have made!
The story by Eric Carle called the Little Cloud is a good way to finish off the lesson and could give some more ideas for a later time.
---
Cotton Wool Clouds on Sticks
This simple cloud theme activity gives the children a chance to work completely on their own to create their own rain cloud which they can take home or use in the classroom as a prop for a story or poem.
You will need  
Pieces of blue paper  
cottonwool balls  
glue 
paint ,black and white  
lolly sticks
I encouraged them to draw their own cloud shape on a piece of blue paper and then stick pieces of cotton wool onto it before adding a lolly stick onto the back so they cloud move it around like a real cloud in the sky. If they fancied they could paint the cloud grey or black and even put a face on it to be a character in a story. 
I ended up with 20 Little Clouds which we used in the re telling of Eric Carle's Little Cloud story. The kids really enjoyed participating and it encouraged them to have another go at making a cloud in the shape of one of the characters in the story. 
---
Newspaper Clouds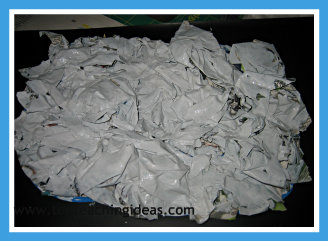 I liked doing this with the kids as it encouraged them to work together as a team on a bigger project .We then used the finished cloud to hang up in the classroom as part of a display for the story of The Little Cloud. By the way you can get  the Little cloud on U tube. Just type in Little cloud by Eric Carle and it takes you through text with illustrations.
We first cut out a large cloud shape from blue or grey paper. Then with the kids we tore pieces of newspaper, scrumpled them up and stuck them higgledy piggledy style all over the paper until it was completely covered.
.When it was dry we got the kids to paint it with grey or white paint . Hey presto a 3D cloud! They enjoyed doing it so much we decided to make our clouds look like objects as told in the story.
We needed:
 A large bit of cartridge paper 
 Lots of old newspapers
 Glue 
 Black and white paint
 Wide paint brushes
---
Cloud Jars
I have to admit I haven't tried this with the kids as yet but someone told me about it recently, and it sounded so good as a cloud theme activity that I thought I would include it.,
It also works well as part of a science lesson where you can explain to the kids about the rain cycle and how the clouds fill up with moisture and then the moisture turns into rain and falls to the ground.With older children you can include the names of the different kinds of clouds and the type of weather they are likely to be associated with.
You will need:  
A large Jar  
4 smaller cups  
Green ,orange blue and red food colouring  
Shaving foam  
A dropper [the kind you get from the chemist to put oil in children's ears]
I get the impression that this activity may well be a wee bit messy so I think a covering on the tables is definitely a good start!
II think I would do it initially with 2 children at a time and with only one jar and see how that pads out. So first, fill the large jar 2/3 s full of water.
Then fill the 4 smaller cups 1/2 full of coloured water [different colour in each cup]  and then squirt the shaving foam into the big jar, on top of the water, This is the cumulus cloud ,
Now you take the dropper and fill it with one of the colours from the cups and drop it onto the shaving cream.It should travel through the cloud and come out the other end dripping into the clear water below.[like rain!]
The children can experiment with the different colours until the water gets a bit cloudy [not meant to be a pun!] and then start again. If you've the energy!
Happy rain making!
---
Cloud Theme Game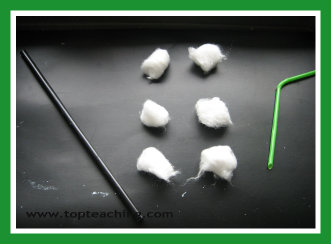 A cloud theme activity that is just a bit of fun and teaches the kids to play cooperatively with one another.
All you need is
a cotton wool ball and a straw for each of 2 children.
It is basically a game of football with a cottonwool ball. The children sit at either end of the table with the cotton ball in the middle. The winner is the one who manages to blow the ball off the opposite end of the table without their partner stopping it !
NB Warning ! This could get noisy!
---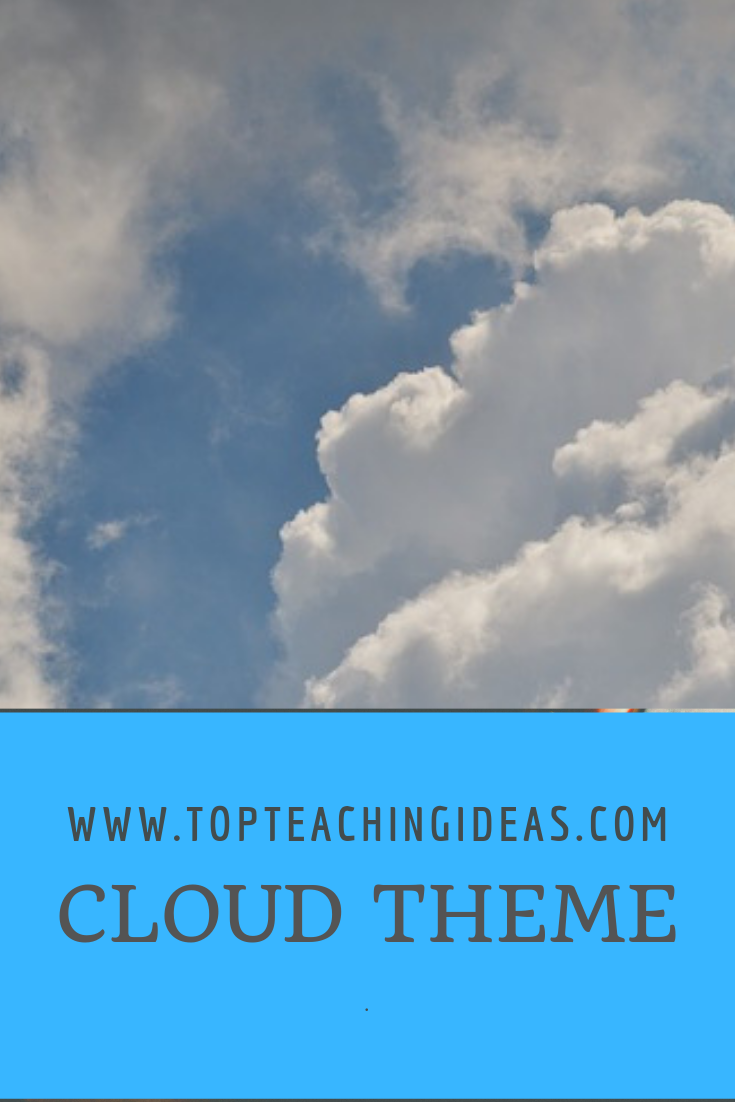 More Weather theme teaching ideas