Christmas Activities for Kids
I love doing Christmas activities with the kids . There are so many things you can do to help them with their learning without them knowing it! So dip in and grab yourself some ideas from my Christmas Activities for Kids page and enjoy! 
---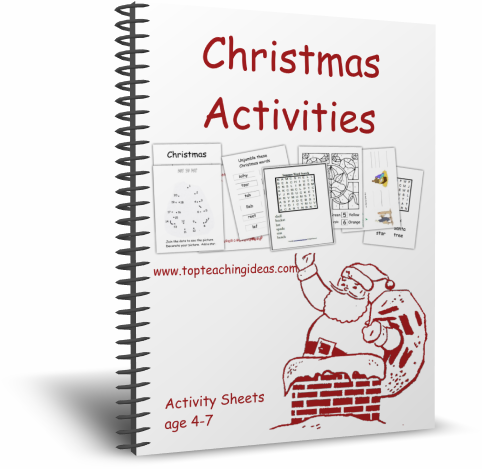 Christmas Activity Pack
Do you need some Christmas handouts for your classroom?
My new Christmas Activities pack contains the perfect worksheets and coloring pages to keep children busy and learning. 
---
Wrapping Paper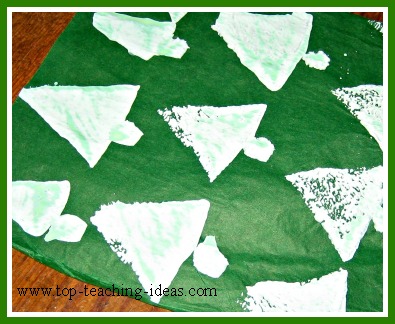 So you need some ideas for your  Christmas Activities for Kids?
 Well this is a good one to start  with.
They can make their very own wrapping paper for their mums or dads pressie or to wrap up pretend parcels in the play area.
[See activity below]
This activity can help develop kids awareness of pattern, color and numbers.
It's probably better to provide only 2 or 3 different shapes at first so they don't get overwhelmed by too many choices.
I tend to prefer to use sponge shapes but it can be fun to experiment with things such as hand prints or even foot prints thus making it more individual. They can then use the paper they have created to wrap up their mums present! A lovely personal touch!
 All you need is:
a sheet of paper. I tend to use cartridge paper for younger kids because it takes more punishment but ideally tissue is better,
2 or 3 Christmas sponge shapes,

paint [I like to use Christmas colours like red and green but any bright colour will do.]

shallow containers to put the paint in.

 What you do .
Just let them experiment with the shapes and see what they  come up with!
OR
If you want to make it more of a learning experience, talk a little bit about pattern with them first. Remember pattern can be created with colour as well as shape.Have some 'bought' wrapping paper handy as an example.
 If you're looking to combine learning with fun this is one of  the simplest Christmas Activities for Kids you will find.
---
Wrap it up!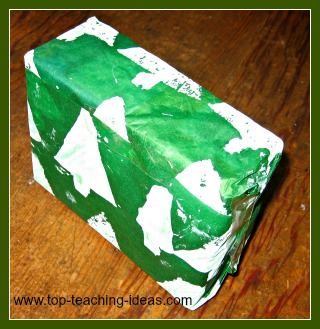 This is absolutely one of my favourite Christmas Activities and it comes out every year like clockwork!

Using your home made individualised wrapping paper or a cheap roll from the market get the kids to wrap up their own presents using boxes from the junk modelling corner.

What to do.
 Just put a few different size  pieces of wrapping paper under  the Christmas tree together with sticky tape, boxes, and labels. [I used little post-its] Then just let them have a great time!
They will get a learning experience from choosing the right sized paper for their box.
Using the scissors for the cutting of the sticky tape will be good for their fine motor skills and the writing of the labels will enhance their literacy development. But of course they will be having too good a time to realise these objectives!
---
Christmas Present Labels for your Christmas Activities for kids Theme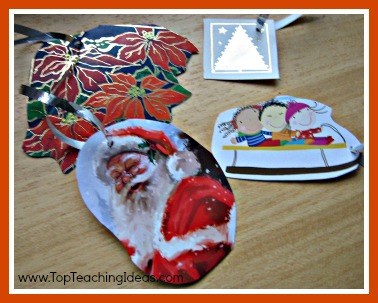 This is a great way of  using up last years Christmas cards for one of your Christmas activities for kids as well as helping the kids develop their cutting  skills.
 All you need for this activity is a pile of old Christmas cards , a pair of scissors, a hole punch and some wool or ribbon.
 What they do is to cut  out the cards into any shape and size they like .Make a hole with the hole punch and thread some wool or ribbon through the hole.Then hey presto, a label to put on their mums present!
---
Dressing and undressing the Christmas Tree!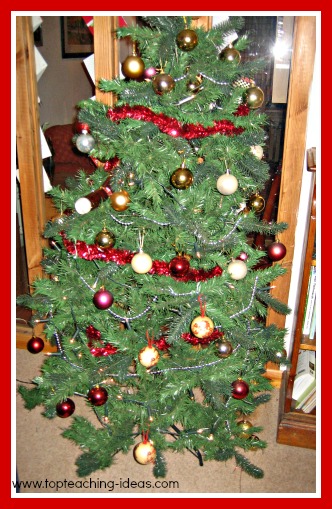 This can be one of your 'on going'  Christmas Activities for Kids. 
 It can last up to several weeks and is one activity the kids won't get tired of!.
 All you have to provide is a  Christmas tree and lots of  decorations.
 They decorate the tree with as many decorations as they like [its always overkill! ] then you take a picture to capture the moment. These can be used later for a display or for a card for mum and dad.
They can then undress the tree [with a little persuasion!] and put the decorations back into the box ready for the next person.
---
Stocking Filling!
 This Christmas Activity for kids   can be used at any time of the year  but of course it's more appropriate at  Christmas time for obvious reasons!
It is a sand tray activity and so very easy to organise .
All you need to provide is a tray full of sand, some old socks and a few spoons. [different sizes if you like]
The children just fill the socks with the sand and watch the socks expand in length!
Get them to hold them up in the air and feel the weight! For older children you could ask them to find out how much they weigh and then record their findings on paper.
 I have used this same activity to assess children s counting skills but substituted the sand with bricks and asked them to count the number of bricks they could fit into the sock.
 I like all my Christmas Activities for  Kids to have a hidden learning  objective so they learn as they  play.The maths language that  evolves in this exercise is plentiful!  Try it and see!
---
Making a Christmas Play Area 
Post Office Play Area
A post office play area is a wonderful way to introduce several important learning objectives but does tend to take a bit of time to set up.So why not start way before Xmas thus making the effort you spent in organising it all really worthwhile!

You will need
 A cash machine with play money

 Cards and crayons
 Paper and pencils
 A calculator or computer.
Scales for weighing parcels
Dressing up clothes including a postman's outfit.
Wrapping paper and sticky tape together with some different size boxes .
What you do.
Once you have collected all the bits together its time to set up your post office.
I tend to keep the messy making part separate from the rest and have an  adult near at hand to help sort out problems as they arise!
This activity is particularly good for their personal and social development but like so many other Christmas Activities for Kids,it can help them with their physical and literacy skills too.
---
A Snowman Card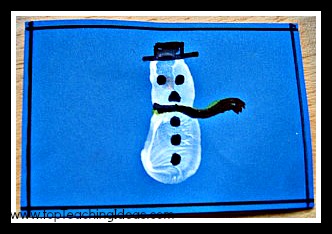 This is an easy idea for a Christmas card that doesn't take long to make and doesn't need a lot of input from an adult. 
You will need :
A small card shape about 6 or 7cms square and dark in color.
White paint and felt tip pens.
What you do to make the head of the snowman is to ask the pupil to dip their finger in the white paint and print it in the centre of the card Then do the same again, this time with their thumb, and print the body of the snowman under the head. Then you have to let it dry .
When properly dry they can decorate their snowman with felt tips in any way they like. A hat and scarf would be good perhaps with some eyes and buttons and even a big orange nose!
We did these with a class of kids last year and we got them all done in 2 days !
The joy of making your Christmas Activities for Kids simple!
---
3D Bauble Card
This is one of the Christmas Activities for Kids that helps them develop their cutting skills and and looks good when completed.
It doesn't need a lot of help from you and allows the kids to put their own stamp on it,so each one has its own individual design.

 What you need is:
 a card,cut and folded ready for use.
 A piece of white paper.
 Some christmassy collage stuff like glitter and sequins
 Markers such as felt tips or crayons
You then get the kids to cut out 2 circles the same size which fit easily on their card 
They then fold one of the circles  in half and stick one half on top of  the other circle so that one half sticks out at right angles.
They can then decorate them as they wish.
This can be adapted to almost any Xmas shape depending on the age and ability of the kids.
---
Marshmallow Snowmen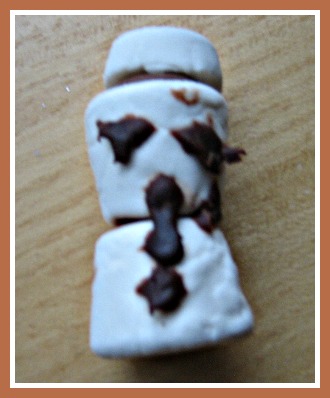 This is a wonderfully easy little Christmas activity that the kids will love doing.
It doesn't involve any cooking so no worries about hot ovens or heavy pans. It's lots of fun and makes a tasty snack to take home or eat at snack time! 

You will need 
A packet of marshmallows ,white if you want them to look like a snowman!
 A small packet of chocolate buttons.
 A  squeezy icing set [black]
 The kids can do all of this on their own.
 First they stick together 2 marshmallows with the squeezy icing .
 Next stick on the chocolate button with a bit more of the icing and
Lastly put a face and buttons onto your snowman again with the black icing and there you have it ,a cute little edible snowman.
One of the more simple Christmas activities for kids that you can use to send home to their mums. 
---
Shaving Foam Shapes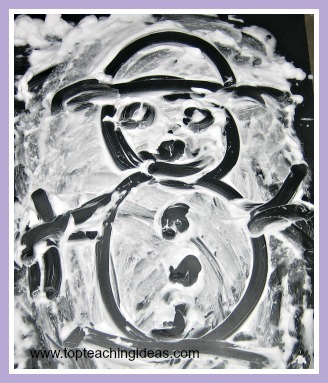 Kids love this task not only at  Christmas but at any time during  the year. 
All you need to provide is a table that is washable and a tin of shaving foam.

 Just squirt enough shaving foam  onto the table and allow the kids to draw shapes and pictures in the foam. If you want to preserve their work you could take a picture of it before the next child has a go. I used the photos to put in their Learning Journals.

---
Salt Dough Christmas Tree Shapes
When my kids were little we were always making things out of salt dough. 'It feels so nice' they used to say!
And unlike play dough you can preserve their masterpieces by baking it and painting it. So here we go with another one of my favourite Christmas activities for kids!

How to make salt dough.  
Using 1 cup of flour and 1/2 a cup of salt make a dough by gradually adding 1/2 a cup of water to the dry mix. The dough must not end up sticky so stop adding the water when the mixture is combined but still dry. If it gets too sticky add some more flour. Knead the dough and then roll it with a rolling pin or press it flat and then use cutters to cut out your Christmas shapes . Dont forget to put a hole in the top so you can hang them on the tree.
Now in the past I always used to bake it in a very low oven for about 3-4 hours but the kids always got impatient and wanted them done immediately so now you can speed up the process by putting them in the microwave for 3 minutes .If they're not done then give them another 20 seconds and repeat until they are rock hard. Just take care and watch carefully every 20 seconds or so as I have read some bad reports about doing it this way!
Then all you have to do is paint them and tie a piece of ribbon through the hole.
---
I hope you've enjoyed doing these Christmas activities for kids with your class and perhaps you would like to dip into some of my other pages for more topic ideas to do with your kids at different times of the year. 
---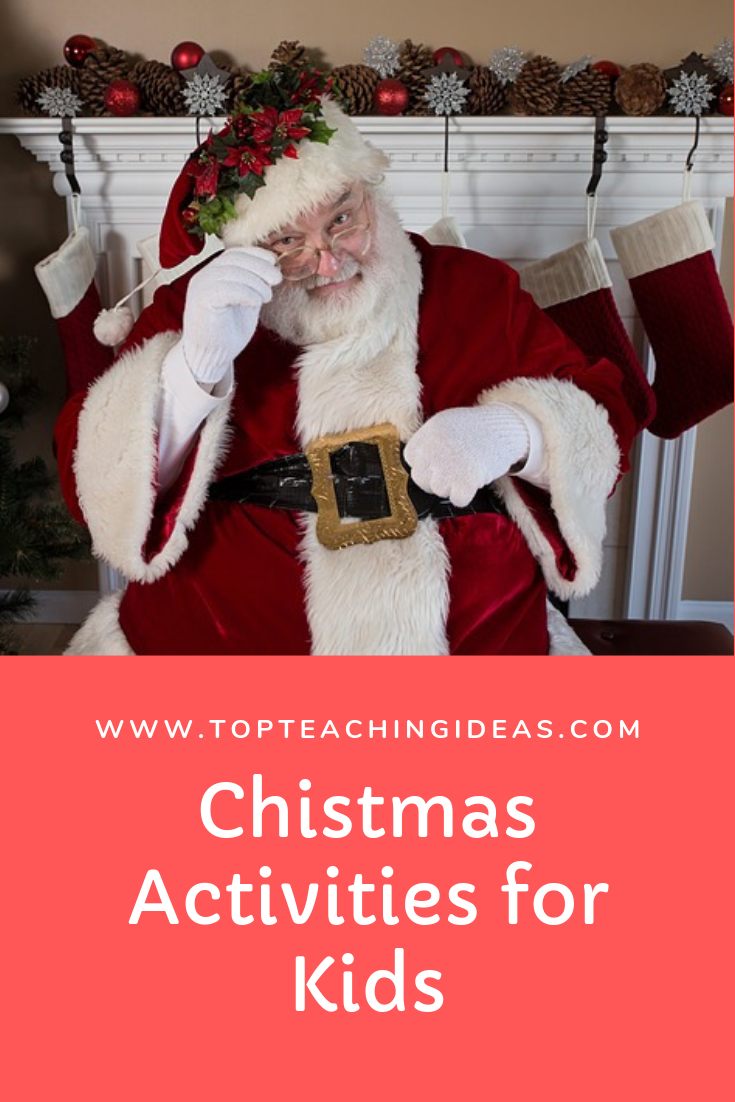 Go to Top Teaching Ideas Home from Christmas Activities for Kids